[ad_1]
The day before the sale launch of the Radeon RX 6800 and RX 6800 XT based on the Navi-21 GPU and the new RDNA-2 architecture, manufacturers are benchmarking the performance of the larger of the two new graphics cards with ray tracing. . Website VideoCardz The folio is now leaked.
RDNA 2 supports all the features through DirectX 12 Ultimate API, which didn't yet exist in the Radeon RX 5000 series, such as ray tracing, as proven in manufacturer benchmarks at 1440p.
5 games of Navi-21-XT on the DXR benchmark
The slides that seem to come from AMD's presentation show the Ray Tracing performance of Battlefield V (test), Call of Duty: Modern Warfare (test), and the Radeon RX 6800 XT with 72 ray accelerators in the game. Crysis Remastered, Metro Exodus and Shadow of the Tomb Raider from WQHD.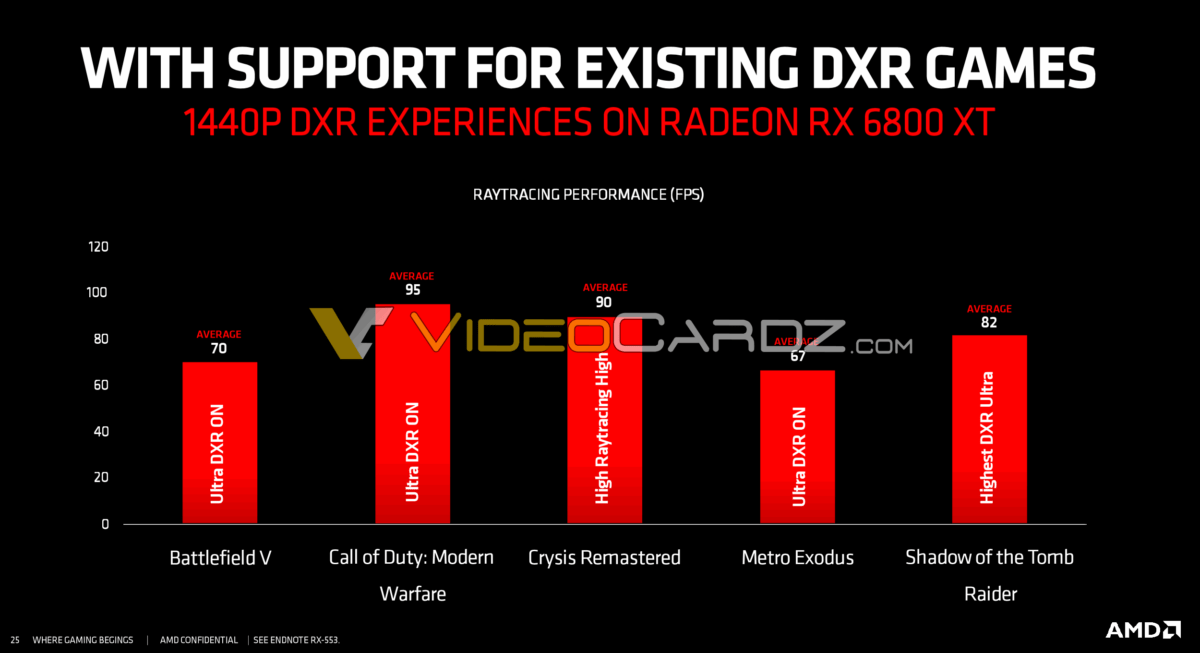 In Battlefield V, AMD is looking at the Radeon RX 6800XT at an average of 70 frames per second, and in Call of Duty: Modern Warfare it should be around 95 FPS. Both games were run at the DXR level "Ultra". In Crysis Remastered (tested), players with DXR "High" level can expect an average of 90 frames per second.
The Metro Exodus (ultra preset) is specified at 67 FPS, while Shadow of the Tomb Raider's Lara Croft is said to be on the Radeon RX 6800 XT with an average of 82 FPS of ultra presets. The results of the Radeon RX 6800 with 60 Ray Accelerator and the Radeon RX 6900 XT with 80 Ray Accelerator have not yet been leaked.
The benchmarks are all said to have been performed on a Ryzen 9 5900X (tested) using 16GB DDR4-3200 with the highest possible level of detail.
[ad_2]
Source link