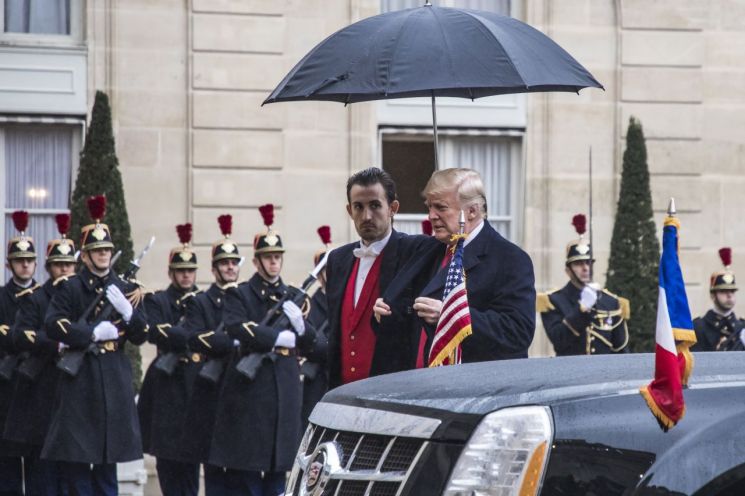 [ad_1]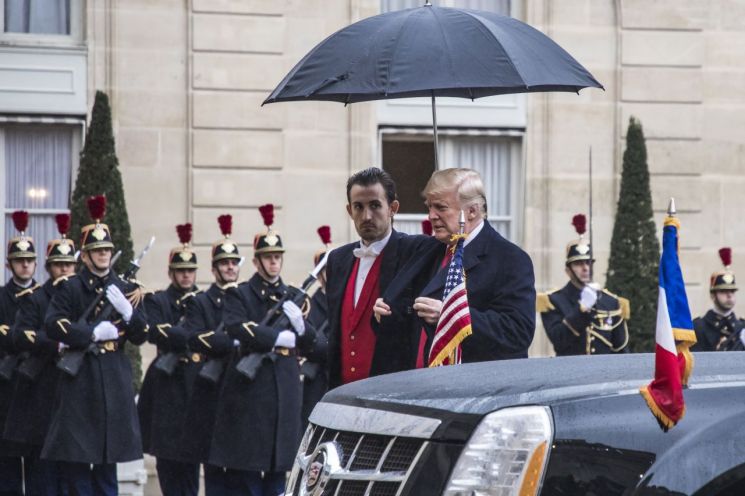 [이미지출처=EPA연합뉴스]
[아시아경제 정현진 기자] US President Donald Trump has decided not to attend a ceremony at the US Army Cemetery in World War I near Paris, due to rain, the Washington Post reported on Wednesday (October 10).
According to the White House, the White House said in a statement, "Due to the weather and the difficulties of moving, Mr. Trump's visit was canceled." Trump is visiting Paris to attend the 100th anniversary of the end of the First World War next day.
Initially, President Trump planned to visit the US military cemetery in Belo, 85 kilometers east of Paris, with his wife, Melanie. However, it was raining on this day and the helicopter could not be used. A former foreign minster said that Trump was similar to President Moon Jae-in canceling the DMZ in November last year.
When President Trump's visit to the US military cemetery was canceled, criticism was pouring out. British lawmaker Nicholas Somam, the son of former British Prime Minister Winston Churchill, posted a criticism on Twitter saying that he had defused the honor of the US military.
"I can not believe President Trump will watch television in a hotel room instead of paying homage to the American people who gave their lives to victory in France 100 years ago," wrote David W. Bush, former President George W. Bush's speech writer. . Trump is currently in the US embassy in Paris.
Ben Rododes, former National Security Adviser to former President Barack Obama, stressed that "Obama's all-out schedule for eight years, we have always had a variable for rain," he said.
Despite worsening weather conditions, President Emmanuel Marc Long and German Chancellor Angela Merkel attended the 100th anniversary of the end of the First World War in the northeastern part of Paris, Canadian Prime Minister Justin Trudo paid tribute to Canadian troops who fought in the Bimy region of northeastern France.
Meanwhile, world leaders from more than 70 countries gathered in France to attend the 100th anniversary of the end of World War I on the 11th.
[ad_2]
Source link