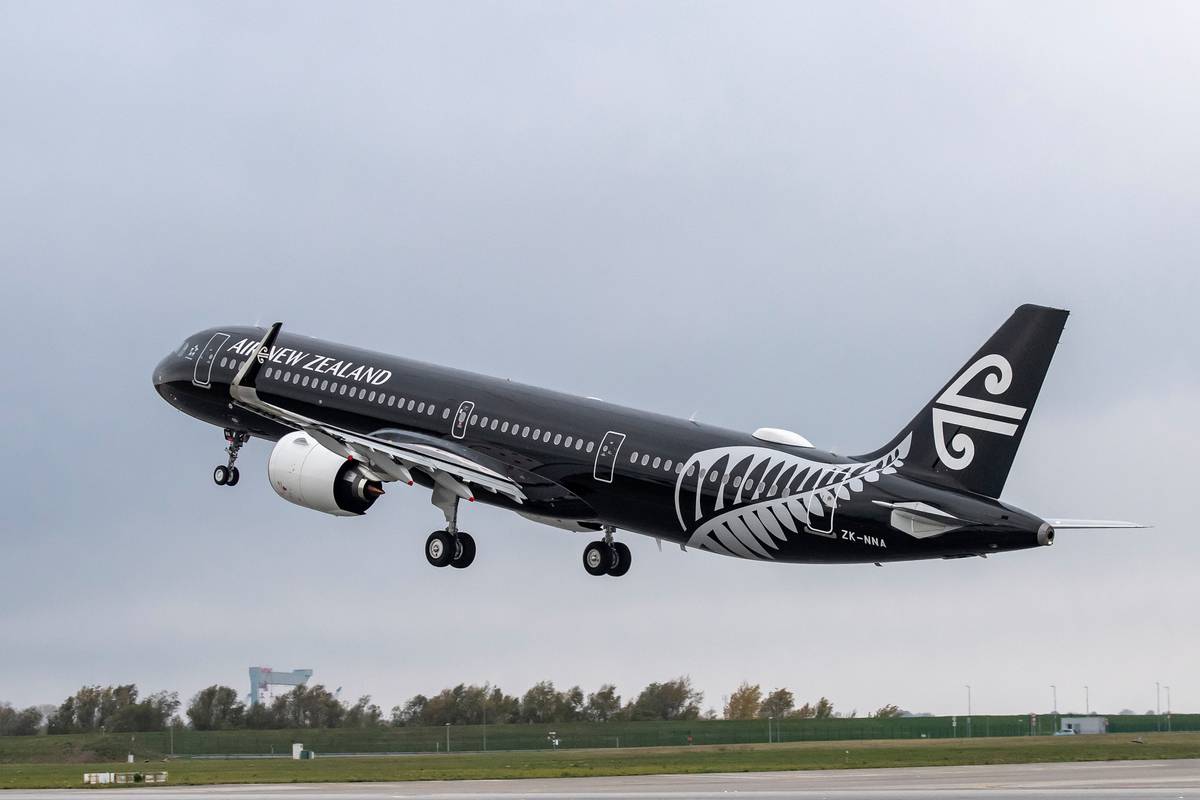 [ad_1]
Air New Zealand's newest airplane, the Airbus A321neo, landed in Auckland.
A 214-seat plane landed last night with nine ferry passengers flying from Oman, Kuala Lumpur and Cairns, starting at the Airbus manufacturing plant in Hamburg.
According to Flightradar, the plane touched at 10.23pm.
The single passenger A321neo (new engine option) is the first of 13 new Airbus new aircraft (seven A321neos and seven A320neos) to join the aircraft next year. The A321 is used for short-haul international flights.
The aircraft is longer than the A320s used on domestic and short-haul flights and has a Pratt & Whitney GTF (geared turbofan) engine that is more efficient and quieter than its predecessor, but it suffers from some teeth.
Pratt & Whitney said Air NZ's A321 GTF engine is backed by a service contract for up to 16 years.
"Air New Zealand has been a Pratt & Whitney customer for more than 50 years and dates back to when the pioneer Tasman Empire Airways Limited launched the Douglas DC-8 powered by the JT3D engine," said Rick Deurloo, senior vice president. Sales, marketing and customer support to Pratt & Whitney.
Based in Connecticut, the GTF engine has demonstrated commitment to reduce fuel combustion by 16%, reduce nitrogen oxide emissions by 50%, and reduce noise footprint by 75% since its introduction in early 2016.
Air New Zealand has postponed its first A321 India to make it even clearer after engine problems have occurred.
Kerry Reeves, director of flight programs, said, "Just as with the new products, as the engine matures, there are childhood problems and the engine is immune to them." "I think now we have reached a reasonable level of maturity and reliability."
Tail Registration The ZK-NNA is scheduled to enter the NZ739 on November 23rd from Auckland to Brisbane.
The A321 is 7.5 meters longer than the A320s, adding 46 seats to the fully renovated interior.
Taranaki's leather seats are wider than the traditional A320.
The middle seat is 49 cm – 3 cm wider than the middle seat of the existing A320 short – haul aircraft and the passageway and window seats are 47 cm – 1 cm wider.
The seat pitch (front and back distance) is 29 to 33 inches (74 to 83 cm) and for the A320 used on international aircraft is 30 to 34 inches.
The second A321neo is expected to depart in the next few weeks, while the majority of remaining aircraft will follow by the end of 2019.
The new A321neos will replace the current A320s running Tasman and Pacific Island services.
Air New Zealand ordered an additional seven A321 Neos for its domestic network to be delivered from 2020 to 2024.
[ad_2]
Source link