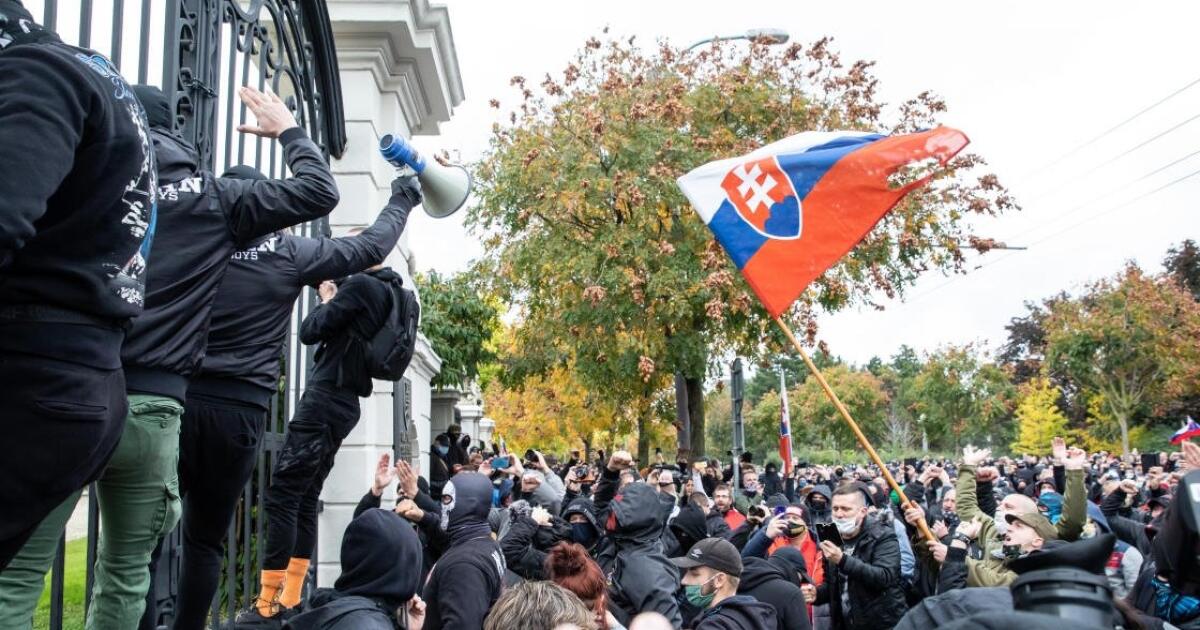 [ad_1]
This protest took place on the 31st anniversary of the Meek Revolution. Dissatisfied people went back to the streets exactly a month after the October protests. He rioted, so the police had to intervene. They detained several people on the spot and searched others after the incident.
The streets of Bratislava began to be filled with dissatisfied citizens shortly after the second hour. Gradually they fill Hodžovo námestie, Námestie SNP, and dozens of people are also in front of the government office. The police seem to have prepared this. An obstacle was installed in front of the building.
The official protest began at 4 pm in front of the government office and presidential palace. It is not clear how many people are heading there. At 3 o'clock, hundreds of people gathered in front of the parliament building. They came there to meet members of the Direction in memory of November 1989. "Fico is the best!" Shouted the present.
You can find photos of the protests here
At 3 p.m., the central station was also full, where the police were already waiting for the protesters. People moved slowly in front of the government office. During this time they shouted out several slogans such as "Matovič je k *** t" or "We want freedom". Some of them also indulged in alcohol. Police escorted the entire crowd while moving. Firecrackers and used chimneys can be seen from the ground.
Heavily indigenous people and horses on horseback were waiting for an angry crowd in front of the government office. Protesters are urging to join the police, and a chimney exploded on the spot. Protesters also called the Slovak state. "Protect our rights, not the perpetrators!" One of the protesting police mediated. She also had to use rubber bullets on aggressive people. The crowd moved to Hodž Square, standing and shouting. "To the base". Sometimes enthusiastic applause spread to the crowd.
Pollícia has also detained ĽSNS deputies for protests, MArian Kotleba informed social networks: "Our Slovak LS member Andrei Med Becky was captured by a police turtle right in front of the presidential palace. For no reason!"
In Hodž Square there were more than a thousand people who blocked the entire area. There were no buses or cars in the square and people were standing on the road for cars. Police detained several protesters that they identified when the protests began. "Put down your helmet"Protesters shouted at the police, but some still confirmed. "gestapo,"Exclaimed. Several speakers also spoke at Hodžovo Square. For example, Ján Čarnogurský and Pavol Slota. About 2,000 people met in Hodž Square. Andrej Danko and Smer members also took part in the protests.
The furious crowd moved in front of the National Parliament building. "Resign!" Angry citizens shouted. ĽSNS party members and formerly detained Medvvecký appeared in Congress after being released afterwards.
[ad_2]
Source link