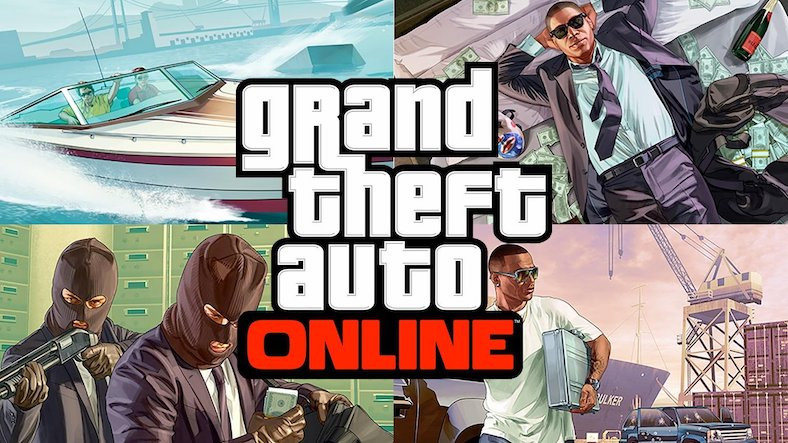 GTA Online winners will receive a $ 250,000 cash prize for the weekend.
If you log in to GTA Online every week in February, you can earn $ 250,000 from the game. In fact, this feature came out last week, but if you're a GTA online player you're still three weeks ahead and you will not miss this opportunity.
If you miss the first week of your campaign, you can still enter the game for the next three weeks and you can deposit $ 750,000 into the cash register. The payment system of the game is as follows: Weekend After entering the game at the end of the money, the weekend is in your account. So if you think you got into the game in 3 weeks, you will have $ 750,000 in game safety as of March 2nd.
This campaign is also suitable for people who have not played for a long time. If you have not played for a long time, you can enter the game, put $ 250,000 into the game case, and try out the new multiplayer mode Arena Wars.
During the next few weeks at Rockstar, Firing, Last Judgment Day, Enemy We also pay twice as much cash to those who play. Those who want to play the game again can try this mode.
$ (Function () {
// Facebook window.fbAsyncInit = function () { fb.init ({ appId: & # 39; 1037724072951294 & # 39 ;, xfbml: true, Version: & # 39; v2.5 & # 39; }); };
(Function (d, s, id) { var js, fjs = d.getElementsByTagName (s)[0]; if (d.getElementById (id)) {return;} js = d.createElement (s); js.id = id; js.src = "http://connect.facebook.net/en_US/sdk.js"; fjs.parentNode.insertBefore (js, fjs); } (document, & # 39; script & # 39 ;, & # 39; facebook-jssdk & # 39;)));
$ (& # 39; body & # 39;). Ten ({ Click: function () { // facebook save button ajax If fb.xfbml.p (); } }, & # 39; .facebook-save & # 39;);
// Share scrolling. if ($ (& quot; content-sticky & quot ;. length> 0) { if ($ (window) .width () & gt; = 768) { $ (window) .on (& # 39; scroll & # 39 ;, function () { have scrollTop = $ (this) .scrollTop (); $ (& Article; & # 39;). Each (function () { if (scrollTop> = ($ this) .find (. content-body & # 39;) .offset () .png - 76)) { $ (This) .find (& # 39; content sticky & # 39;) AddClass (& # 39; sticky & # 39;); height () - ($ (this) .find (& quot; content-body & quot;) .find (& $ (This) .find (& # 39; content sticky & # 39;) RemoveClass (& # 39; sticky & # 39;); $ (this) .find (& # 39 ;. content-sticky & # 39;) .css (& # 39; bottom & # 39 ;: "#px" & # 39; top & # 39 ;: & # 39; auto & # 39;}); } else { $ .Find (& # 39; content sticky & # 39;). AddClass (& # 39; Sticky & # 39;). CSS ({ & # 39; bottom & # 39 ;: & # 39; Initial & # 39 ;, & # 39; Upper & # 39 ;: & # 39; 76px & # 39; }); } } else { $ (this) .find (& # 39 ;. content-sticky & # 39;). removeClass (& # 39; sticky & # 39;) .css (& # 39; bottom & # 39 ;: auto & # 39 ;, & # 39; top & # 39 ;: & # 39; ); } }); }); } }
// Click sharing $ (& # 39; body & # 39;). Ten ({ Click: function () { var $ this = $ (this), dataShareType = $ this.attr (& # 39; data sharing type & # 39;), dataType = $ this.attr (& # 39; data type & # 39;), dataId = $ this.attr (& quot; data-id & quot;), dataPostUrl = $ this.attr (& quot; data-post-url & quot;), dataTitle = $ this.attr (& quot; data-title & quot;), dataSef = $ this.attr (& # 39; data-sef & # 39;);
Switch (data sharing type) { case & # 39; facebook & # 39 ;: Of fb.u ({ How: & # 39; Share & # 39 ;, href: dataSef, }, Function (response) { if (response &&! response.error_message) { updateHit (); } });
rest;
case & # 39; twitter & # 39 ;: shareWindow (& nbsp; https: //twitter.com/intent/tweet? via = webtekno & text = & # 39; + encodeURIComponent (dataTitle) + & # 39;% E2% 96% B6 & # +; encodeURIComponent (dataSef )); updateHit (); rest;
case & # 39; gplus & # 39 ;: shareWindow (& nbsp; https: //plus.google.com/share? url = & # 39; + encodeURIComponent (dataSef)); updateHit (); rest;
case & # 39; mail & # 39 ;: window.location.href = & # 39; mailto:? subject = & # 39; + encodeURIComponent (dataTitle) + & # 39; & body = & # 39; + encodeURIComponent (dataSef); // updatehit (); rest;
case & # 39; WhatsApp & # 39 ;: window.location.href = & # 39; whatsapp: // send? text = & # 39; + encodeURIComponent (dataTitle) + & # 39;% E2% 96% B6 & # 39; + encodeURIComponent (dataSef); updateHit (); rest; }
function shareWindow (url) { window.open (url, "_blank", "toolbar = yes, scrollbars = yes, resizable = yes, top = 500, left = 500, width = 400, height = 400"); }
function updateHit () { $ Ajax ({ Type: "POST", url: dataPostUrl, Data: {contentId: dataId, contentType: dataType, shareType: dataShareType} Success: function (data) {
if ($ (& video-showcase & # 39;). length> 0) { var $ container = $ (& video; showcase & # 39;); } else if ($ (& article[data-id="' + dataId + '"]& # 39;). Length> 0) { var $ container = $ (& # 39; article[data-id="' + dataId + '"]& # 39;); } else if ($ (&& 39. wt-share-item[data-id="' + dataId + '"]& # 39;). Length> 0) { var $ container = $ (& # 39; .ww-share-item[data-id="' + dataId + '"]& # 39;); } else { $ container = null; }
// var $ container = dataType == & # 39; video & # 39; $ (& Video-showcase & # 39;): $ (& article[data-id="' + dataId + '"]& # 39;);
if ($ container! = null && $ container.length> 0) { var $ badged = $ container.find (& # 39; wt-share-badge - & # 39; + dataShareType);
find $ headerCount = $ (& # 39; content-header & # 39;). find (& # 39; .ww-share-count & # 39;), $ containerCount = $ container.find (& quot; wt-share-count & quot;), value = parseInt ($ containerCount.html ()) + 1;
$ container.data (& # 39; share & # 39 ;, value); //$containercount.html(value);
if ($ headerCount.length> 0) { //$headercount.html(value); }
dataShareType == & # 39; twitter & # 39;)) { if ($ badged.hasClass (& # 39; is-visible & # 39;))) { //$badged.html(data); } else { //$badged.addclass('is-visible').html(data); } } }
} }); } } }, & # 39; .wt-share-button & # 39;) });
Source link