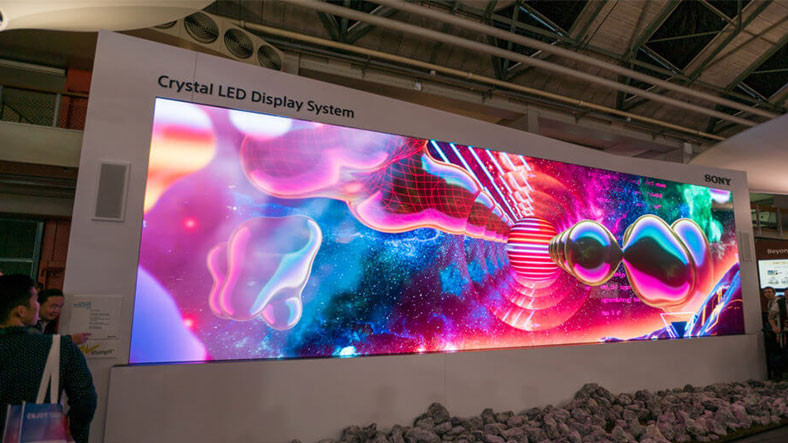 Sony announced the previously announced 16K resolution crystal LED display. To get this screen with great features you will need very large walls and millions of dollars.
HD, Full HD, and 2K display technologies continue to evolve. Today 4K or 8K TVs are on the market, but manufacturers are unlikely to stop. Sony's Crystal LED display system is bus-sized for almost amazing images. The resolution of the television is 16K and is currently sold by Sony.
If you have a huge wall and about $ 1 million, you can buy a Crystal LED screen. Sony has begun providing clues about crystal LED displays over the past two years, but this week it showed off at CEDIA Expo in Denver. At the event, Sony announced the launch of the Crystal LED display and announced the pleasant price of the new screen.
4K version, 720 thousand; The 16K version will be sold for $ 5.8 million.
You can combine the crystal LED display to achieve the desired ratio. If you want a panel with 4K resolution, you need 72 full screens. Considering that one of the screens starts at $ 10,000, you'll have to dispose of $ 720,000 to have a 4K resolution display. You also need 288 screens for 8K and 576 for 16K. So if you want a 16K TV with Crystal LEDs, you'll need $ 5.8 million.
Sony's Crystal LED technology uses 360×360 resolution micro LED modules, each 16×18 inches, similar to Samsung's Cinema LED (Onyx) system, with three mini LEDs per pixel. The technology works similar to OLED, but allows 1,000 nits brightness, 10-bit grayscale, high quality color reproduction, and "spectrum" 3D, as Sony explains. Crystal LED display systems support high frame rates up to 120Hz and have a 180 degree close viewing angle.